Preface
If you're not quite ready to install our vendor sync module, that's OK, you can still sync vendors and GLs to Fidesic using our GP module.
If you do not yet have our Module installed into your GP Environment, you can get a jump by manually uploading vendor lists and GL lists
Open GP
To initiate a sync through our GP Module, first we'll need you to navigate to GP, and create a Payables Batch. This batch can be temporary and deleted at the end of the sync.
Then select Get Fidesic Vouchers from the Additional menu.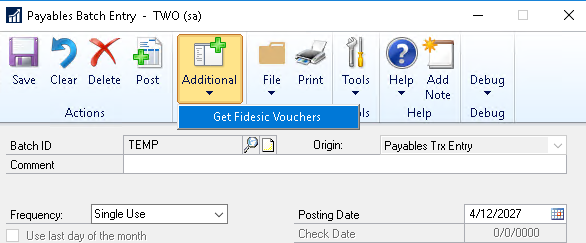 Login using your Fidesic account. Once logged in, click the Upload Vendor Lists & Chart of Accounts button.
This initial upload may take several minutes. There may not be immediate feedback.
Go grab yourself a coffee and come back, and you'll have uploaded your vendor lists.
If you're interested in an automatic background sync version, follow the Vendor Sync install instructions.