Overview
This will take you through the standard steps for account configuration and setup of Fidesic AR for Dynamics GP.
Creating Your Account
Head to the New Account Page: https://app.fidesic.com/v2/#/register
Required Fields
Official Company Name (Will be used for payment processing)
First and Last name
Email Address (Your Business Email Address)
Accounting Package: Dynamics GP
Product Type : Accounts Receivable
Click Register
After you've clicked create account you'll receive a confirmation email. This will allow you to set up a password for your account and login for the first time. Simply click the link in the confirmation email to be taken to the password setup page.
After you've created your account, you'l be logged in automatically.
Company Profile Setup and Configuration
Head to settings icon, and select Company Settings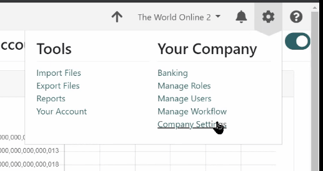 From here you'll be on the Company Profile tab.
Click on the Edit button: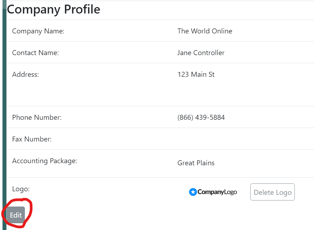 Please provide the following info (These fields are required for payment processing, and will be used as your return address on any printed checks.
Address 1
City
State
ZIP
Confirm Accounting Package
Phone Number
You can also upload a custom logo using the Choose File prompt

Company Preferences
The following are a list of preferences and what they control within Fidesic. If you have any questions about the exact details of a preferences it's best to leave it in it's default state, and contact support for more info.

Auto Remind Customers
This preference will automatically send your customers notifications when they have an invoice coming due. The timing of this notification can be configured on the Customer Card within GP under Fidesic Options
Unpaid Invoices
This preference displays the Unpaid Invoices tab from the Customer Account Center Portal.
Total Balance
This preferences determines if the Total Balance Due is displayed to the customer within the Customer Account Center Portal.
Unpaid Invoice Terms
This preferences determines if the customer is able to take advantage of specific discount terms within the Customer Account Center Portal.
Send RM Invoices
If you do not use Sales Order Processing (SOP) for invoicing within GP, enable this preference.
Allow Auto Charge
This Preference enables our Auto Charge Feature. This allows customers to opt in to pay their bill automatically each month. The customer will receive a receipt of their payment automatically after it is processed.
Customer Account Center Customization
From Fidesic You'll be able to customize how your Customer Account Center looks to your customers, as well as set up a custom sub-domain to direct your customers to. To get to the account center, head Company Settings and then click on Account Center.
Color Scheme
From this section you will be able to set the main color and light text color within the Customer Account Center. The main color will effect the items that appear as teal/green while you are logged in, the Text color is the menu text color. It's best to choose complementary colors here for best results.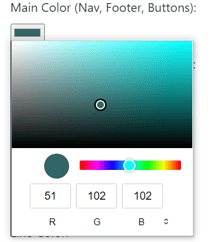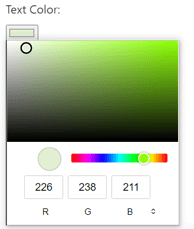 Logo
Upload the company logo that will be displayed on the Customer Account Center. It's best to use a transparent PNG

Portal and Subdomain
From this section you'll be able to set the return URL (where customers will be sent after logging out of the customer portal). The Subdomain URL (a static location where you can direct customers to login to the Customer Account Center).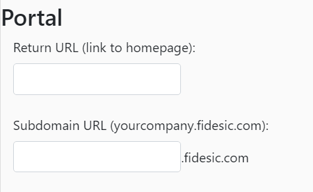 Add Users and Roles
Roles
To get to the roles page, navigate to Settings and click Manage Users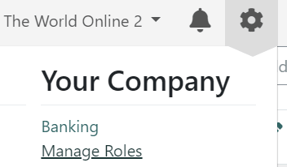 From the Manage Roles Screen you have the ability to create groups for different levels of users within your organization. These roles can then be assigned to individual users. We've pre-loaded Fidesic with common base roles.

Clicking the plus sign to the right of the role name will expand the group and show you the details.

Selecting the
icon will allow you to edit a role's many permissions that are listed below.
Manage Users
To add or manage users, head to Manage Users in the left navigation panel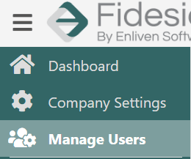 To add a new user, click the options button and select Add User. We need a valid email address and assigned role to create a new user.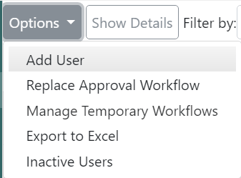 To manage users, click the + to expand the user detail. You can add/remove roles or resend the signup email.

Add Banking Info
Before processing any payments (paper check or ACH) using Fidesic, you will need to enter bank account information. For this to function properly, this info must have a matching configuration on the CheckbookID within Dynamics GP.
To add banking info, head to the Settings menu, then select Banking.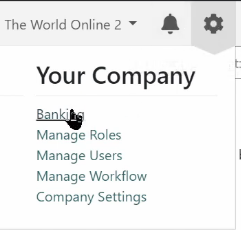 To add a bank account, you will need to enter all fields and then hit save. Note, Account Nickname must match bank id as it's set on the CheckbookID within Dynamics GP.

Customer Import
To get started, you will want to import a batch of customers from GP into Fidesic. These records will be automatically created and updated through regular usage, however for launch and initial balance info, we'll need a full customer list. To get to the customer import page, you'll go to settings, and import files.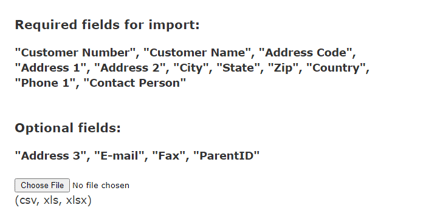 A Smartlist report in GP can be used to generate this list.

Open Items Import
This is also available under Import Files
The GP Smartlist to use here is known as Unapplied Documents in GP. To get accurate info, make sure to Apply All transactions possible prior to running this report.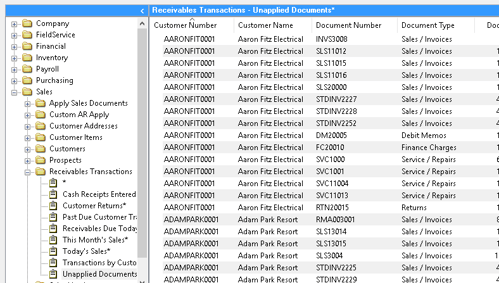 Setting Up a Merchant Account
Fidesic for GP Module Installation
The Fidesic AR Module for GP will connect your GP system to Fidesic for all functions. Individual Instructions below.