Bank Account
From the Bank Accounts Screen, you are able to choose your default accounts for Payables and/or Receivables if applicable By using the drop-down menu listed for each.

To add new accounts there is an Add Bank Account button below the list of accounts already entered into the system.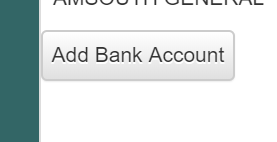 If you wish to delete or edit an account you can use the red and white x (delete) or the edit icon to the right of the listed account.