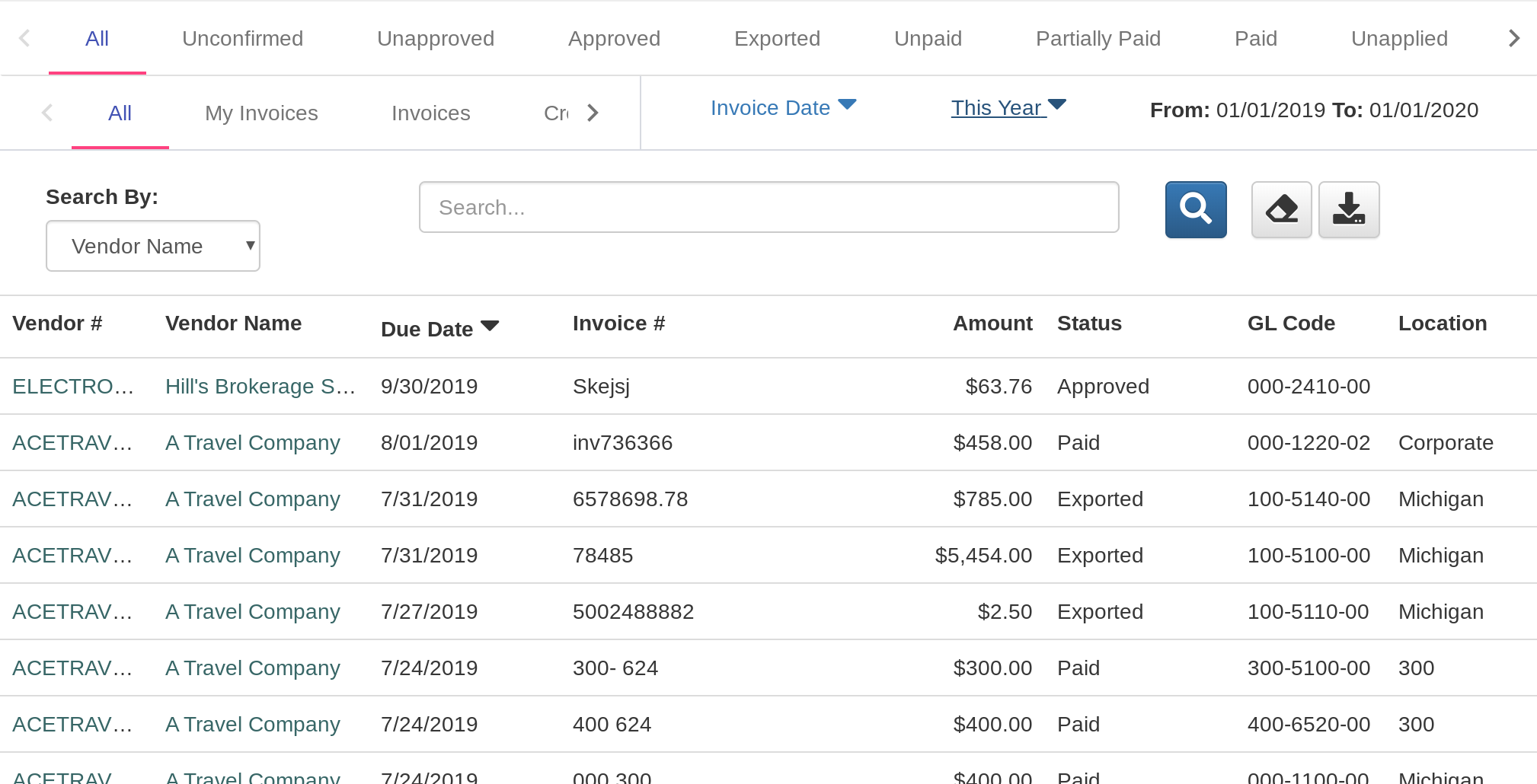 Invoices Received Overview
The Invoices Received page makes it easy to look up and run exports of all invoice data. This list will include all invoices or your invoices based on user preferences.
Quick Filters

Across the top of the page are quick Filters for easily searching invoices by status:
The Top Quick Filter is based on invoice Status.
ALL- Show All Statuses
Unconfirmed- These invoices have cleared OCR but have not yet hit the workflow (not used for all clients)
Unapproved - These invoices are currently pending approval from someone within the workflow.
Approved- These invoices are fully approved and ready for export to your accounting system.
Exported- These invoices have been exported to your accounting system.
Unpaid- These invoices have a payment created but not yet approved.
Partially Paid- These invoice have an approved payment, but are not completely paid.
Paid- These invoices have been paid.
Voided- These invoices have been voided during the approval process.
Bottom Quick Search Options-
All- This will show all invoices and transaction types
My Invoices- This will only show invoices that are either assigned to your user in the workflow.
Invoices- This will only show invoices
Credits- This will only show credits
Date Type- Will control the Operator for the next search

Invoice Date
Created Date
Due Date

Search Type

Last 30 Days
This month
This year
Custom- will allow you to select custom dates to display.
Options for searching:
Vendor Name

Invoice Number

Vendor Email Address

Invoice Number

Amount

GL Code

Location
Exporting to Excel
Once you have filtered the invoice to display what you want, you have the option to export to Excel. Simply click the export button and you will receive an excel format download of your invoices selected.