The Fidesic Invoice Rejected Queue has the ability to assign invoices to specific users for review.
Overview
Fidesic OCR Rejected queue is all invoices that cannot be read by our OCR system. These invoices can either be processed, deleted or in this case, assigned to a specific user for review.
Note: If this is not enabled on your account please let us know and we will enable user based queue functions on invoice inbox.
Navigate to the OCR Rejected queue by heading to Invoice Inbox and clicking on Rejected OCR Queue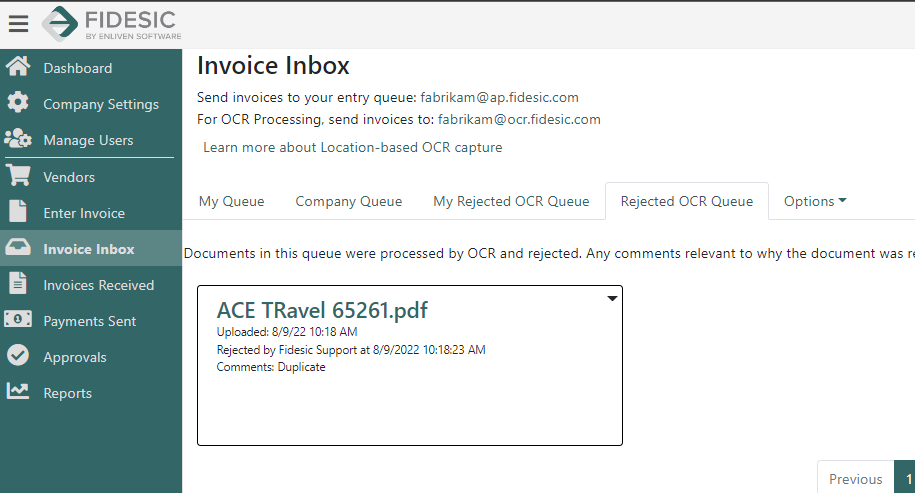 From there you can use the drop down menu on individual invoices to assign them to a specific user for review.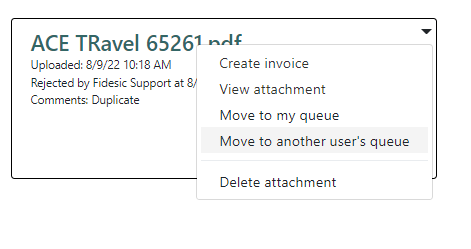 After selecting this option, select the user.

Click Submit and this invoice will be moved to that particular user's My Rejected OCR Queue
The user will also be notified in their notifications panel that they have an invoice or invoices pending their review in the My Rejected OCR Queue. Clicking this notification will take them to the queue where they can process, delete, or move these invoices to a different user.